Alice Neel Estate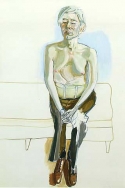 Jeremy Lewison Limited has been advising the Estate of Alice Neel since 2003. Alice Neel (1900 – 1984) was one of the foremost twentieth century American painters in the figurative tradition but was little known outside the USA. The Estate was looking for ways to increase her visibility and introduce her work to new audiences, and approached Jeremy Lewison for strategic advice.
Jeremy Lewison Limited devised and implemented a strategy that has seen enormous success, placing the Estate with three new galleries, Victoria Miro Gallery, London, Aurel Scheibler, Berlin and David Zwirner, New York and acts as the intermediary between them and the Estate. He devises and oversees the installation of the exhibitions that take place there and liaises on all matters relating to the handling of the Estate. Since advising the Estate, Alice Neel's work has become more prominent in the USA and Europe, and has become more widely collected. Her paintings are now entering museums and foundations in Europe as well as in the USA.
In addition Jeremy curates museum exhibitions of Alice Neel. Alice Neel: Painted Truths which he co-curated with Barry Walker of the Museum of Fine Arts, Houston, was shown at the MFA, Houston, Whitechapel Gallery London and Moderna Museet, Malmö. In the December 2010 issue of Artforum Anne Wagner selected it as the 'best exhibition of the year'. In 2014 retrospective exhibition of her drawings will take place at the Nordiska Akvarellmuseet in Sweden.
Alice Neel Exhibition
Alice Neel: Painter of Modern Life
Alice Neel: Painter of Modern Life is the latest major Alice Neel exhibition to be organised by Jeremy Lewison. It was shown at Ateneum, the Finish National Gallery during summer 2016 and will shortly open at the Gemeentemuseum, den Haag. Following this showing it will travle to Fondation Vincent Van Gogh, Arles and Deichtorhallen, Hamburg.